Samsung and Micron Excel in Downturn of DRAM Market
July 26, 2018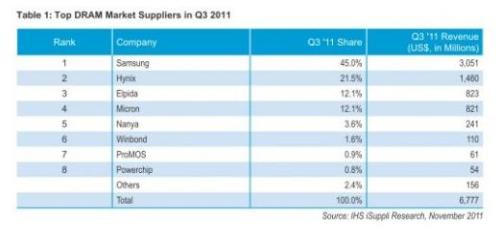 According to IHS iSuppli's DRAM market briefing, the DRAM market has been difficult in the third quarter, but several vendors and performance have outperformed the industry as a whole and their share of market revenue has increased slightly, especially South Korea's Samsung Electronics and US Micron.

Overall, the top eight vendors accounted for 97.6% of the DRAM market in the third quarter, a small difference from the 97.4% in the second quarter. However, total operating income fell to US$6.6 billion, a decrease of 18.5% from US$8 billion in the second quarter, as shown in Table 1. At the same time, as prices fell by 23.0%, the operating income of the entire industry also fell by 15.8% qoq, to ​​US$6.8 billion.

Despite the sluggish situation in the third quarter, there are still two clear winners: Samsung and Micron.

Samsung is a long-term leader in the DRAM market. Its market share in the third quarter increased by 3.5 percentage points to a staggering 45.0%, and it accounted for 3.1 billion US dollars in the overall market of 6.8 billion US dollars. Samsung's shipments grew by 9%, and its average selling price fell by nearly 17%, a decrease of less than 26% of the overall market. Given that Samsung's market share has steadily increased and its capital expenditure budget is the largest, it will almost certainly continue to maintain its dominant position in this area.

Micron's market share increased from 10.6% to 12.1%, and operating income was US$821 million, ranking fourth. Micron is now nearly equal to the third-ranked Elpida in Japan. Elpida's market share dropped from 14.6% to 12.1%, and its business revenue was 823 million U.S. dollars. Elpida's shipments in the third quarter increased by 16%, and the average sales price dropped sharply by 39%. The appreciation of the Japanese yen also made the cost of Elpida's Japanese factory relatively expensive compared with factories outside Japan.

Like Elpida, South Korea's Hynix Semiconductor, which ranked second, has lost market share in the third quarter. Hynix's operating income was $1.5 billion, and its market share fell from 23.4% to 21.5%. Its average selling price fell more than the average level of the industry and fell by 29% in the third quarter.

Another loser is No. 5 Taiwan South Asia Technology, whose market share fell from 4.7% to 3.6%, mainly because its average selling price was relatively weak, dropping by 32%. South Asian shipments grew by 7%, which is also lower than the average increase of 13% in the industry. South Asia continues to rely heavily on commodity markets, and the situation in the next few quarters will be more difficult, especially as the commodity market is expected to maintain a slight surplus.

Winbond ranked sixth and was one of the few companies that had increased market share beyond Samsung and Micron. ProMOS' market share fell to less than 1%, ranking seventh. Powerchip Semiconductor did not ship any branded DRAMs in the second quarter and recovered in the third quarter. All three are Taiwanese manufacturers.

In 2012, the market share of other manufacturers may not increase substantially. The exit of one company, either through bankruptcy or through merger, is likely to be the only factor that is expected to reshape the DRAM industry.

Mike Howard is chief analyst of DRAM and memory at IHS.