S11-M-30 Series 35kv Oil Immersed Distribution Transformer
July 14, 2018
Model NO.: S11-13M
Phase: Three
Cooling Method: Oil-immersed Type Transformer
Certification: ISO9001-2000, ISO9001, CCC
Frequency Characteristics: Power Frequency
Brand: Gse
Radiator Design: Can Be Customized
Install Method: Pole-Mounted Type
Apply Standard: IEC60076/ANSI/GB
Transport Package: Wooden/Plywood Case
HS Code: 8504901100
Application: Power, Electronic
Core: Core-type Transformer
Winding Type: Two-winding Transformer
Usage: Rectifier Transformer, Combined Transformer, Power Transformer, Distribution Transformer
Shape of Core: Ring
Power Lose: No-Load Loss Is 30% Lower Than That of IEC Standar
Material: Oil, CRGO, Copper
Color: White, Green or Customized
Trademark: GSE
Origin: Shandong China
S11-M-30 Series 35kV and below Oil Immersed Distribution Transformer


The partner of State Grid Corporation
The partner of National Railway Administration of China
ISO9001, TUV, and CE standard 

1.FEATURES

S13-M.RL three-dimensional roll-core transformer series, the whole body is a three-dimensional triangular shape. And there are taut rods all around and in the central. With top and bottom frames, insulation, laminated wood, it is constituted as a whole body. The high and low voltage coils are circular and concentric winding, which can effectively resist the axial mechanical stress of sudden short circuit.

It has good anti-short circuit ability.

Compared the S13 -Â M.RL three-dimensional roll-core transformer series with ordinary transformers, no-load current is reduced by 75% and no-load loss is reduced by 30% in average. And the comprehensive energy saving is up to 15% -Â 30%

2.Technical Data
Rated Capacity
(KVA)
Rated Voltage
Connection Symbol
No-load Loss
(KW)
No-load Current
(%)
75ºC
(W)
Load-Loss
Short Circuit Impedance
(%)
Weight
(Kg)
Boundary Dimension (mm)
Sound power Level
(db)
 
 
H.V.
M.V.
L.V.
Equipment
L*W*H
 
(KV)
(KV)
(KV)
 
30
6
6.3
10
10.5
11
±5%
or
±2×2.5%
0.4
Dyn11
Yyn0
Yzn11
80
0.3
630/600
4
330
800*500*850
35
 
50
100
0.24
910/870
380
820*550*850
35
 
63
110
0.23
1090/1040
410
835*580*850
35
 
80
130
0.22
1310/1250
430
840*600*880
36
 
100
150
0.21
1580/1500
460
860*600*890
36
 
125
170
0.2
1890/1800
590
1020*660*880
37
 
160
200
0.19
2310/2200
650
1035*660*950
38
 
200
240
0.18
2730/2600
710
1040*680*980
39
 
250
290
0.17
3200/3050
850
1140*740*1010
40
 
315
340
0.16
3830/3650
970
1160*760*1150
42
 
400
410
0.16
4520/4300
1130
1230*800*1200
44
 
500
480
0.16
5410/5150
1335
1320*900*1200
45
 
630
Dyn11
Yyn0
570
0.15
6200
4.5
1630
1420*920*1230
46
 
800
700
0.15
7500
1950
1480*1000*1330
47
 
1000
830
0.14
10300
2205
1600*1100*1280
48
 
1250
970
0.13
12000
2565
1655*1135*1375
49
 
1600
1170
0.12
14500
3100
1815*1260*1450
49
 
2000
1550
0.11
18300
5
3785
1920*1305*1510
50
 
2500
1830
0.1
21200
4570
2120*1430*1575
50
 
Note:
2.1, For transformer whose rated capacity is 500 KVA and below, the load loss value above the slash in the table is suitable for Dyn11 or Yzn11 connection groups, and that below the slash for YynO connection groups.
2.2, Transformers whose HV tapping range is ±2×2.5 may be provided, if need be.
2.3, Transformers whose LV is 0.69KV may be provided, if need be.
2.4, Users may choose other loss values as they need.
2.5, Due to product upgrading and changes to the external dimensions and products in the table, please refer to the external dimensions provided at the time of ordering.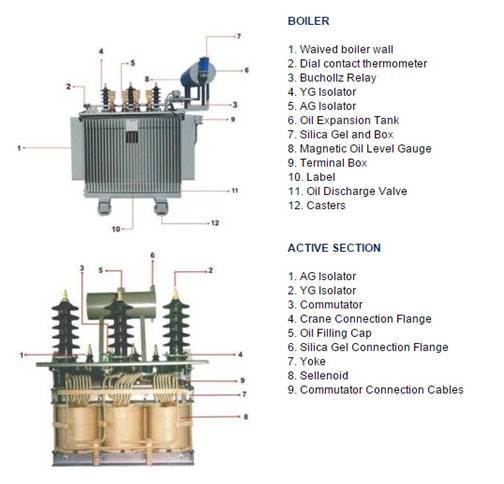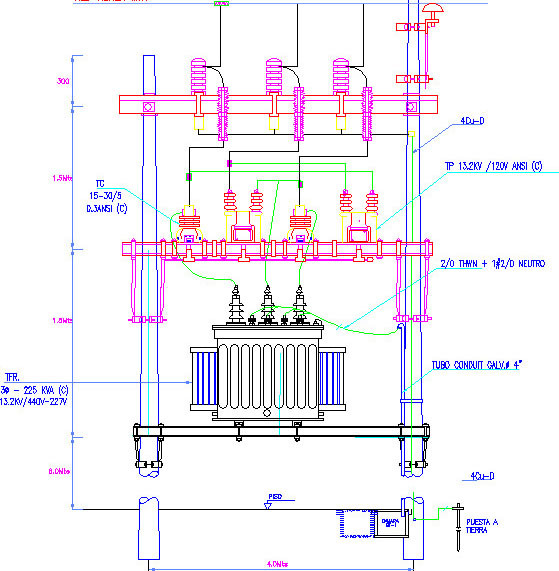 3.Company Introduction

Shandong Yangxin Genshen Electric Co., Ltd (GSE) was founded in 2012 and her subsidiary,Qingdao Yaoutongxing International Trading Co.Ltd, is founded in Qingdao. registered capital of 50 million yuan, covers an area of 50 acres, production workshop 15000 square meters, 150 employees, annual sales reached about 80000000 yuan is a high-tech enterprise integrated R&D, production, sales.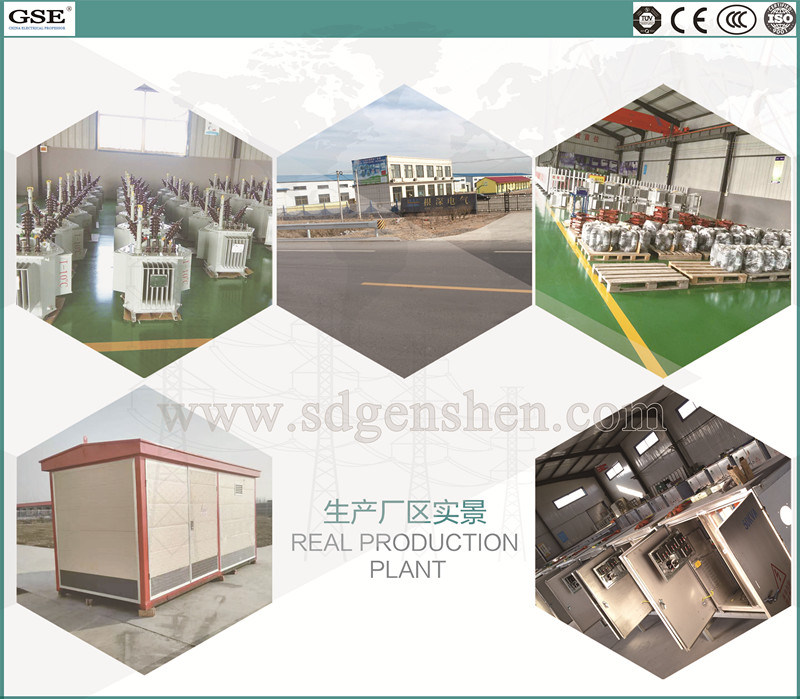 GSE have advanced production lines, testing equipments, ensuring the products with excellent quality. "Â Survive on high quality and seek development with prestige "Â is GSE principle, "customer first, quality first" is GSE purpose; "service above all, responsibility above all". We are committed to the prosperity and development of electric power and security. We sincerely welcome both domestic and overseas customers to come and visit us.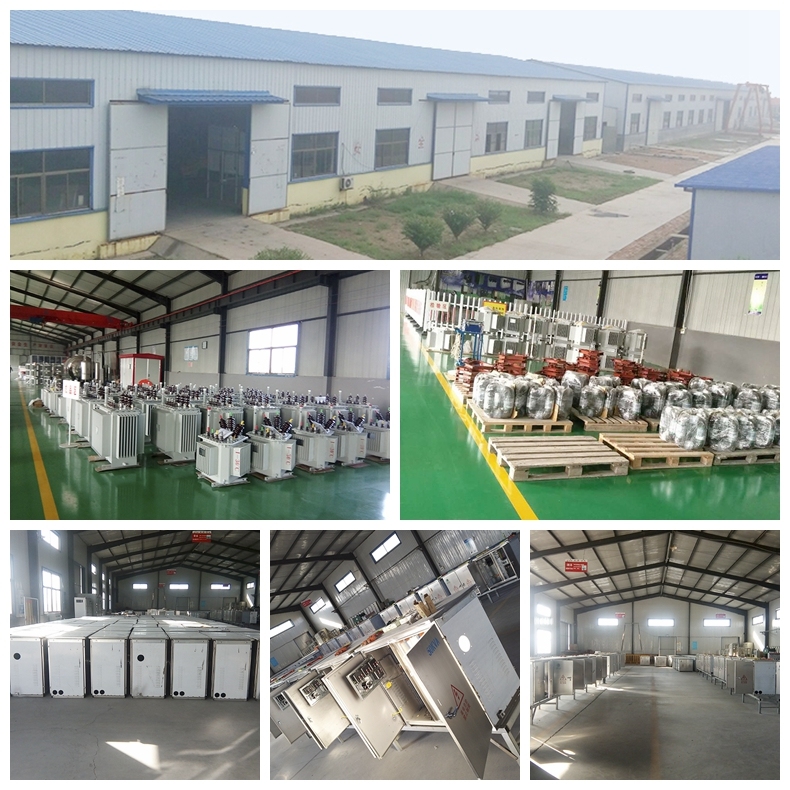 4.Certificate

GSE is one of the strongest influence and expertise enterprises in North China, with ISO9001 quality management system, OHSAS18001 occupation health and safety management system and ISO14001 environmental management system certification, 3C certification.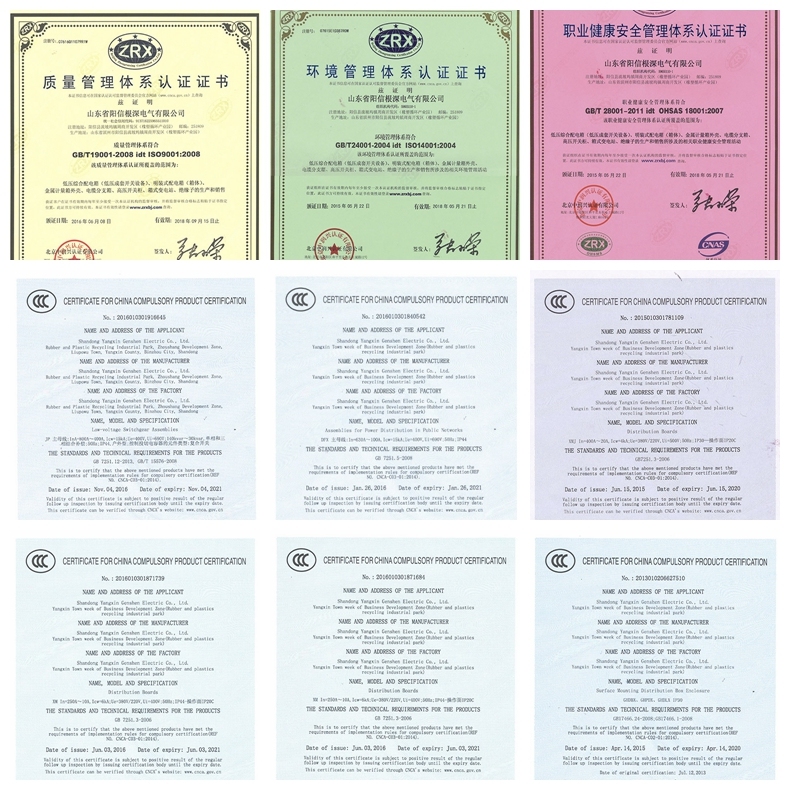 5.GSE Main Product

GSE main products: electric meter box, cable casing, high and low voltage electrical switchgear, transformer, box type substation, cable branch box, distribution box, ring network cabinet, JP cabinet, power distribution box, low voltage reactive power compensation control cabinet, electric energy metering box, high voltage metering device, porcelain insulator, composite insulator, transformer oil, electrical equipment, instrumentation, and insulated wire wire and cable, communication cable, cable accessories, monitoring equipment, electrical fittings and electrical equipment processing, Glass fiber reinforced plastics material with sheath (SMC), PC+ABS material metering box system Products, electric vehicle charging equipment, photovoltaic power generation equipment (excluding generators), wind power equipment production and sales.

6..RFQ

6.1.Q: Are you manufacturer?

    A: Yes, we are manufacturer. Our factory is in Binzhou City, Shandong  Province.

 6.2.Q: Can I get guarantee of products?

    A: Yes, every product is 1 year quality warrantee under customer correct using the products.

 6.3.Q: Do you have any Certificate?

    A: Yes. Each of our unit has CCC certificate. All the electric parts with CE certificate, If you need any other Certificate, we can help you to get it.

 6.4.Q: How to buy it? What about the delivery?

    A: Please contact me by email or online, let me know your situation, I will give you professional solution.We have shipping agent can choosing the cheapest and fastest delivery. FOB,CIF, C&F or EXW are no problem for us.

 6.5.Q: How can I pay you?

    A: T/T, L/C is very well used.

 6.6.Q: What about the production?

    A: Produce time is 4~6weeks.

 6.7.Q: Could you offer some spare parts?

    A: Yes, no problem.

 6.8.Q: What about the maintenance?

    A: All the goods past the test, maintenance is very easy.7
7.Contact
Should you have any problem,please contact with us,we will reply to you in 24 hour.
Manager: Tony
Mobile:+86 135 615 19737