Martin Lighting held the third advanced lighting technology exchange conference in Beijing
July 31, 2018
Advocated by the China Television Lighting Research Association, the "Large Performance Lighting Design and New Technology Seminar" organized and sponsored by Martin Professional Lighting (Hong Kong) Co., Ltd., was held in Beijing from August 22 to August 24, 2005. The "Canal People's Home" Jianguo Holiday Resort was successfully completed.

This grand professional lighting industry technical exchange meeting has been hosted by Martin Professional Lighting (Hong Kong) Co., Ltd. for the third time. Martin has specially invited from the United States: Luc Lafortune and from the UK: Steve Nield, two lighting design masters, detailed the design projects, content, effects, production process, design concepts and experiences they have participated in. Tell and communicate with the lighting experts and representatives in the industry. Luc Lafortune has been involved in lighting design for over 15 years and was awarded the 2005 USITT (American Theatre Technology Association) Award for Best Lighting Design. His large-scale "KA" show in Las Vegas was hailed as the most expensive and largest indoor stage performance ever; another large-scale Las Vegas show "O", unique in lighting design, bold The creativity and application of the lights made the audience deeply impressed! Another speaker, Steve Nield, is active in Southeast Asia and has hosted several major performances: Singapore's National Day outdoor large-scale show, and the world's three major tenor singers in Angkor Wat, Cambodia. The overall conceptual lighting design of the LV brand-name store.

The three-day exchange and seminar will introduce the most advanced lighting consoles and lighting and video fusion control servers, new lighting products and effects demonstrations, and the excellent performance of Martin's professional lighting products. Performance and outstanding results, advanced technology and excellent service have won the unanimous approval of the participants. Delegates said that they can absorb the latest technical information and exchange lighting design concepts from the conference, understand the dynamics of the world lighting industry, improve their understanding of technology and industry, promote mutual communication, and hope for horses. Tian Professional Lighting (Hong Kong) Co., Ltd. has continued this exchange to promote progress and development in the industry.

The photo shows the participants of the exchange meeting with the person in charge of the Martin Lighting.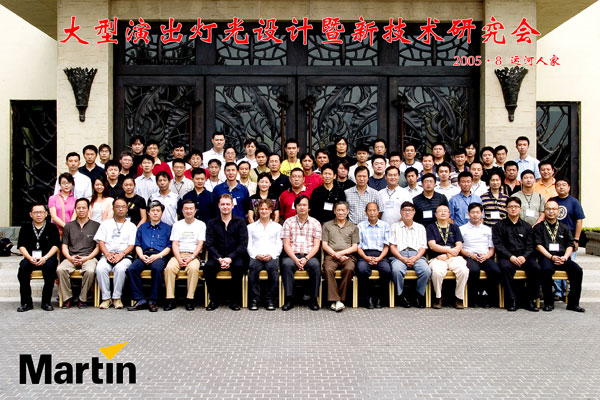 Editor: Zheng Yaqin 2005-9-17 China Lighting Network Source: Martin Lighting (Hong Kong) Co., Ltd.