Dongguan will have a civil engineering standard for electricity exceeding the standard required to pay surcharges
July 18, 2018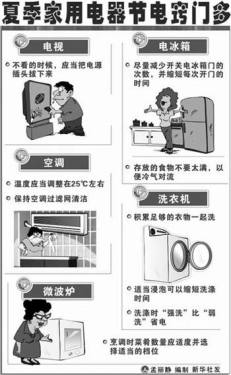 Construction and transportation, industry, and said the three major energy areas. In the future, Dongguan will gradually formulate standards for the use of electricity for civil buildings and establish a system of additional charges for electricity use. This means that citizens will have to pay surcharges if they exceed the standard for electricity use. At the same time, during the "Twelfth Five-Year Plan" period, the municipal government plans to arrange 250-300 million yuan in fiscal funds to set up special funds for building energy conservation to support the construction of energy-saving projects. Yesterday afternoon, the city implemented the "Guangdong Provincial Civil Building Energy Conservation Regulations" and the building energy conservation work conference to study and deploy the building energy conservation during the "12th Five-Year Plan" period.

Commercial housing is not energy-saving and difficult to pass approval Energy consumption is too high has become a major problem facing Dongguan, which accounted for 21.1% of the total energy consumption of the building's total energy consumption, building energy-saving work is related to economic sustainable development and industrial transformation and upgrading.

The relevant media learned from the meeting that during the "Eleventh Five-Year Plan" period, Dongguan gradually promoted building energy-saving work and established closed-door energy efficiency in the construction, plan approval, construction, supervision, supervision and acceptance of new construction and home sales. The supervision system will implement 100% mandatory standards for building energy conservation in the new building construction stage and construction phase. In other words, if a building, including a commercial house, does not meet energy-saving standards at any point, it will face "approval" and other sanctions.

However, yesterday, deputy mayor Liang Guoying pointed out that the overall energy consumption of the city's buildings is high, especially public buildings such as offices, commercial buildings, hotels, and hospitals are large energy consumers, and the energy-saving potential of these buildings can reach 15%-20%. .

Zhu Chuan, director of the Urban Housing and Construction Bureau, said at the meeting that there are still three major problems in building energy efficiency, including the relatively slow energy-saving retrofitting of existing buildings, the relatively lagging economic incentives for building energy conservation, and the insufficiency of building energy efficiency.

It will invest several hundred million to encourage building energy conservation Liang Guoying said that it is necessary to effectively strengthen the operation and management of building energy systems and improve the municipal real-time monitoring platform for building energy consumption. According to the type of building, function of use and scale, etc., the standard for the use of electricity for civil buildings shall be gradually formulated, and a system for extra charges for electricity use shall be established. The meeting did not disclose the specific time for surcharges.

According to the "Guangdong Provincial Civil Building Energy Conservation Regulations," civil buildings refer to residential buildings, state offices, office buildings, and commercial, service, education, health, and other public buildings.

At the same time, Liang Guoying said that the municipal government plans to arrange 200-300 million yuan in fiscal funds during the "Twelfth Five-Year Plan" to establish a special building energy-saving fund to support building energy efficiency in solar photovoltaic, solar thermal, green building, and building energy monitoring systems. Project construction. He asked the taxation department to study and formulate preferential taxation policies for building energy-saving new technologies, civil building energy-saving projects and other legal enjoyment.

Liang Guoying also requested towns, streets, and parks to actively improve the incentive mechanism, set conditions and tasks for the work, or arrange some funds from the energy-saving and emission reduction funds for the construction of the festival.

The construction of at least 40 green buildings and green buildings during the "Twelfth Five-Year Plan" period is a major focus of building energy conservation. According to the "Technical Guidelines for Green Buildings", green buildings mean to maximize resources conservation (energy saving, land saving, water saving, material saving), environmental protection, and pollution reduction during the life cycle of buildings to provide people with health benefits. And efficient use of space, in harmony with nature.

The "12th Five-Year Plan" of the "Environmental Protection of Buildings in Dongguan City" issued by the Urban Housing and Urban-Rural Development Bureau in April this year stated that since the Ministry of Housing and Urban-Rural Development and the Ministry of Science and Technology issued the "Technical Guidelines for Green Building Technologies" in 2005, Dongguan has no established green buildings. Only one green building is under construction.

This year, Dongguan is determined to achieve a zero breakthrough in green buildings, adding more than two green buildings. Next year, more than 6 green buildings will be added. During the "Twelfth Five-Year Plan" period, the total number of newly-added green buildings reached 40 or more, and the construction area reached 500,000 square meters. It also strived to build the Dongguan Ecological Park into a demonstration area for the city's green buildings.

At the same time, during the "Twelfth Five-Year Plan" period, the city will implement 2.5 million square meters of existing building energy-saving transformation building area, complete the application of renewable energy and building integration construction area of ​​3 million square meters, and will not less than 100 government Office buildings and large-scale public buildings with high energy consumption were included in the real-time monitoring system for energy consumption. By 2015, the proportion of new wall materials applied in urban areas, town center areas, Songshan Lake, Humen Port, and ecological parks will reach 95% or more, and the proportion of special mortars used with new wall materials will reach 60%.